Visible Woman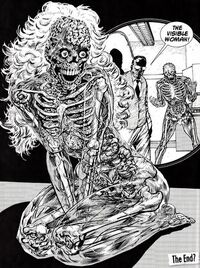 Current alias
Visible Woman
Base of operations
Mobile
Characteristics
Status
Origin
History
Nothing is known of the past life or true identity of the Visible Woman, except that she was apparently a writer before becoming an unfortunate guinea pig of the doctor who studied Frank Hart, the Visible Man, prior to his departure from Earth. She was (presumably) deliberately exposed to radioactive sludge which caused her to suffer from the same condition which afflicted Hart, and when Hart returned to Earth, she was offered to him as his mate. The pair went on the run together, stopping en route to dispense vigilante justice to a paedophile priest and hijack a government helicopter.

Powers and abilities
Strength level
Human female who gets regular exercise (fleeing from the authorities).
Weaknesses
Extremely sensitive to UV radiation.

Paraphernalia
Transportation
Stolen helicopter.

Notes
Like Frank Hart, the Visible Woman's skin had been rendered transparent, making her effectively a walking anatomical diagram.
Links
Discover and Discuss