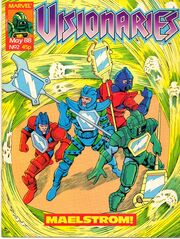 Visionaries
was a monthly 24 page title based on a toy line, first published by
Marvel UK
in April 1988. Set on the planet
Prysmos
, it was essentially just a kind of bastardised version of the legend of King Arthur with the names slightly changed and high-tech armour added. A reprint of an unsuccessful American title, it lasted just seven issues, ending with the story unresolved.
Ad blocker interference detected!
Wikia is a free-to-use site that makes money from advertising. We have a modified experience for viewers using ad blockers

Wikia is not accessible if you've made further modifications. Remove the custom ad blocker rule(s) and the page will load as expected.