Vixen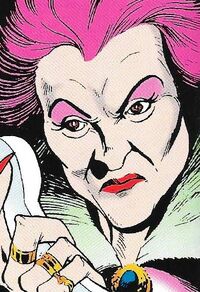 Base of operations
London
Characteristics
Unusual features
Is sometimes a fox
Status
Occupation
Professional criminal
Origin
History
The Vixen (real name unknown) is a London-based female crime lord (crime lady?) who has repeatedly clashed with Captain Britain and with others such as Chief Inspector Dai Thomas of the Metropolitan Police. She is usually protected by musclebound henchmen whom she occasionally gives female names, and is the former employer of the assassin Slaymaster, and a former client of Arcade. She was briefly an ally of the reality-warping mutant Mad Jim Jaspers, until she realised he was out of control and had to be stopped. She attempted to betray Jaspers but he turned her into a real vixen (a female fox). She was restored to normal after his death at the hands of The Fury, however.

Paraphernalia
Equipment
Lots of different costumes, because she likes dressing up. Also owns a razorlight.
Weapons
Proficient with a variety of firearms.

Notes
Although Vixen's organisation first appeared in Captain Britain #3 in November 1976, she herself did not make a physical appearance until The Daredevils #9 in September 1983.

Trivia
Vixen's henchmen include Bert, Jennifer, José, Jools, Simon, Peter, Vivian and Vincent.
Links
Discover and Discuss
Ad blocker interference detected!
Wikia is a free-to-use site that makes money from advertising. We have a modified experience for viewers using ad blockers

Wikia is not accessible if you've made further modifications. Remove the custom ad blocker rule(s) and the page will load as expected.