Wallbanger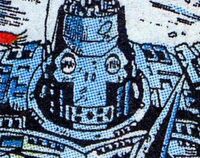 Base of operations
Ararat
Characteristics
Unusual features
He's a robot
Status
Origin
History
The cultured, philosophical Wallbanger was the robot medic of Bad Company during the war with the alien Krool on the planet Ararat. He was caught in a rockfall during the final assault on the Krool, trapped, surrounded and blown to pieces by the Krool. His last words were "Ah. The end, I think. I am matter, therefore I don't matter. No soul, just death. Do please join me..."

Powers and abilities
Abilities
Medical skills.
Strength level
Superhuman.

Notes
Wallbanger had a cameo in 2000 AD prog 2000 (September 2016) which was drawn by Dave Gibbons. He, Kano, Mad Tommy and Shrike were shown shooting Krool.
Links
Discover and Discuss
Ad blocker interference detected!
Wikia is a free-to-use site that makes money from advertising. We have a modified experience for viewers using ad blockers

Wikia is not accessible if you've made further modifications. Remove the custom ad blocker rule(s) and the page will load as expected.