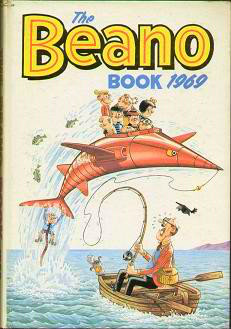 The Beano Book 1969
 yielded many imaginative wonders. However, one creative endeavour above all others stood out for its sheer novelty: a four-page
Biffo the Bear
story, which recounted the bear's travels to the United States and far beyond, in a quest to track down his long-lost Bear cousins. Although the tale in itself is a sure-fire
Beano
winner, an extra dimension is added by the highly unusual approach of plush pensman
Dudley D. Watkins
drawing up the key elements of Biffo, his sidekick Buster, and assorted — though not all — background elements.
Watkins simply left space within the comic frames for The Three Bears artist Bob McGrath to add his own uniquely stylised bear characters, which included his trio of ravenous bruins and also other assorted Biffo relatives. The interaction between the very differently drawn characters is impeccably realised, with actual connection between the differently-drawn bears being flawlessly executed, in a manner that is handled with great skill and taste.
This highly unusual experiment was never repeated again (at least, at this pitch of ingenuity) and remains a genuine high point in creative experimentation within the Beano archives.
Gallery
Ad blocker interference detected!
Wikia is a free-to-use site that makes money from advertising. We have a modified experience for viewers using ad blockers

Wikia is not accessible if you've made further modifications. Remove the custom ad blocker rule(s) and the page will load as expected.