A strip which ran in the later years of Sparky comic by D.C. Thomson which depicted the staff who worked in the Sparky editorial office: Throgmorton, the lanky pipe-smoking and grovelling office manager with the comb-over; 'Artist', the artist, with black beard, sandals and beret; Julie the secretary, svelte, hip and brain-dead; the Joke Man, fat with a loud bow tie and glasses who ate lots; the office cat (the cleverest one of the lot); Minnie the tea lady; Dick the office boy, wide and laddish; the Ink Man, a typically flat-capped and moustachioed printer. Finally, the demon of the office and the boss and editor, 'Sir', whom we never saw and experienced only through the abject terror he inflicted on his staff, his shouting voice (always in boldest type) and his boot print left on grovelling Throgmorton's behind. Readers only got glimpses of Sir's lush private office, which was adorned with mediaeval torture devices on the walls! Sir sometimes relaxed by playing a round of golf with the Beano Sir, Topper Sir, and even the Bimbo Sir! (They all shared the same unseen persona as the Sparky variant.) The strip was drawn by Jim Petrie.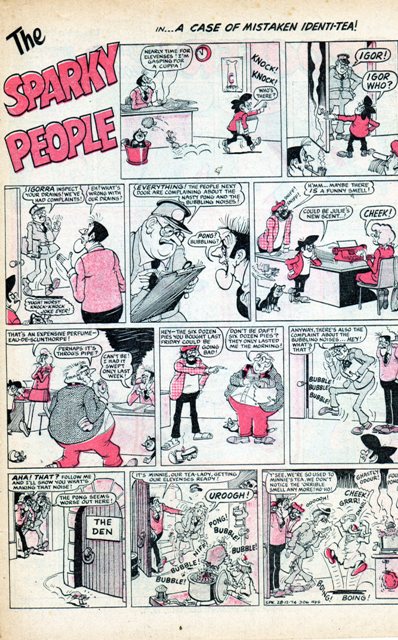 Ad blocker interference detected!
Wikia is a free-to-use site that makes money from advertising. We have a modified experience for viewers using ad blockers

Wikia is not accessible if you've made further modifications. Remove the custom ad blocker rule(s) and the page will load as expected.