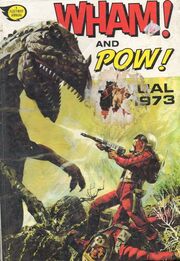 Initially created by
Leo Baxendale
,
Wham!
, the first of the
Odhams Power Comics
line, ran for 187 issues between 20th June 1964 and 13th January 1968. It featured a mix of humorous strips such as Baxendale's
The Tiddlers
; 
Sammy Shrink
;
Eagle Eye, Junior Spy
(which also introduced
Grimly Feendish
) and
The Wacks
. Brian Lewis drew
Georgie's Germs
and
Pest of the West
.
In later issues Wham! featured reprints of American Marvel comics material such as the Fantastic Four. It later merged with sister title Pow! which lasted until 7th September 1968, although Wham! and Pow! Annuals were published by Fleetway as late as 1974. The last Wham! Annual without Pow! added to the masthead was published in 1972.
Ad blocker interference detected!
Wikia is a free-to-use site that makes money from advertising. We have a modified experience for viewers using ad blockers

Wikia is not accessible if you've made further modifications. Remove the custom ad blocker rule(s) and the page will load as expected.