Whizz Wheels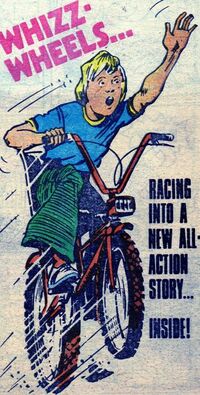 Current Alias
Whizz Wheels
Characteristics
History
Tommy Wheels, known to his friends as "Whizz" Wheels, was the son of a circus trick cyclist and had inherited his father's talent with a bicycle. Sometimes assisted by his friend Lippy Jenkins, Whizz cycled his way through a surprising number of bicycle-related adventures, on one occasion saving a villainous land agent from a forest fire while riding a penny farthing(!) in the course of helping one Major Summers open up a Cycle Museum. There was no end to Whizz's talents, it seemed (just so long as they involved bicycles).

Powers and Abilities
Abilities
Cycling.

Paraphernalia
Equipment
Puncture repair kit.
Transportation
Do you really need to ask?

Notes
Who created Whizz Wheels is unclear, but the final three-part storyline in 1983 was drawn by Brian Walker.
Links
Discover and Discuss
Ad blocker interference detected!
Wikia is a free-to-use site that makes money from advertising. We have a modified experience for viewers using ad blockers

Wikia is not accessible if you've made further modifications. Remove the custom ad blocker rule(s) and the page will load as expected.