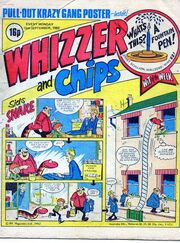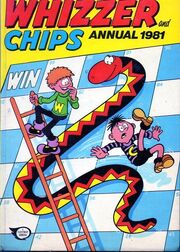 Whizzer and Chips was a long-running humour title published by Fleetway from 18th October 1969 to 27th October 1990 (1038 issues). It had the unusual gimmick of effectively being two comics in one, with Chips being an insert in the centre pages of what was effectively Whizzer. There was a friendly rivalry between the fans — and, indeed, the characters — of the two comics, the "Whizz Kids" (nominally led by Sid from the Sid's Snake strip) and the "Chip-Ites" (nominally led by Shiner). Both factions had their own separate readers' letters page, and each side habitually sent a character to infiltrate the other comic each week, popping up in the background of someone else's strip. Aside from Sid's Snake and Shiner, some of the strips featured over the title's run (which saw it absorb three other less successful titles, Knockout on 30th June 1973, Krazy Comic on 22nd April 1978 and Scouse Mouse in 1988, before finally absorbing long running stablemate Whoopee! on 6th April 1985) included Odd Ball, The Slimms, Bumpkin Billionaires, Loser, Timothy Tester, Beat Your Neighbour, Lazy Bones, Bobby's Ghoul, Store Wars, Bewitched Belinda, Buytonic Boy, Sweet Tooth, Guy Gorilla, Belle Tent, Junior Rotter, Tiny Tycoon, Fuss Pot, Sammy Shrink, Nosey Parker, Strange Hill, Pete's Pockets, Happy Families, Super Store, Paws, Pongo, Hit Kid, Hover Boots, The Krazy Gang, Super Dad, Micky Mimic, Theo's Thinking Cap, Horace and Doris, Super Mum, Sweeny Toddler, Scouse Mouse and the Scallywags and Joker. Adventure strips featured included Whizz Wheels, Run, Rogan, Run and Ron Turner's sci-fi series Space Accident. After its eventual cancellation, the title was absorbed into Buster. Whizzer and Chips annuals were published from 1970 to 1992.
Ad blocker interference detected!
Wikia is a free-to-use site that makes money from advertising. We have a modified experience for viewers using ad blockers

Wikia is not accessible if you've made further modifications. Remove the custom ad blocker rule(s) and the page will load as expected.