Winston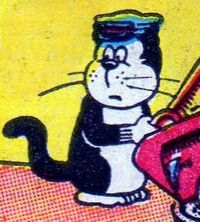 Base of operations
Bash Street School
Characteristics
Status
Origin
Origin
Normal feline birth
History
Winston is a black and white school cat with a blue postman's hat who belongs to the Janitor of Bash Street School and assists him in his duties. These frequently involve cleaning up after the Bash Street Kids, whose riotous antics aren't controlled at all by Teacher, or disposing of Olive's awful cooking.

Powers and abilities
Abilities
Climbing and scratching things.
Strength level
Feline male who gets regular exercise.
Weaknesses
Fish.

Paraphernalia
Equipment
Dustpan and brush.
Links
Discover and Discuss
Ad blocker interference detected!
Wikia is a free-to-use site that makes money from advertising. We have a modified experience for viewers using ad blockers

Wikia is not accessible if you've made further modifications. Remove the custom ad blocker rule(s) and the page will load as expected.