Wrarth Warriors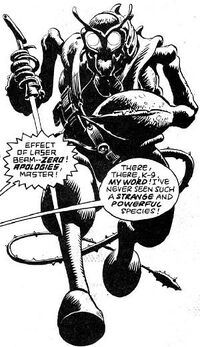 Real name
Wrarth Warriors
Base of operations
Wrarth Galaxy
Characteristics
Origin
History
Genetically engineered by the Star Council of the Wrarth Galaxy initially to deal with the threat of the genocidal Meeps, the Wrarth Warriors were effectively an interplanetary police force. They subdued the Meeps at the Battle of Yarras but their leader, the Most High ''Beep the Meep fled to Earth in 1980, pursued by Wrarth Warriors Sergeant Zogroth and Constable Zreeg. Despite an initial misunderstanding caused by the arthropod Wrarth Warriors' unpleasant appearance and the Meep's impersonation of a cute, cuddly alien being pursued by monsters, the Warriors eventually teamed up with the wandering Time Lord known as The Doctor and two schoolchildren named Sharon Davies and Fudge Higgins to defeat Beep and thwart his plan to turn the English town of Blackcastle into the centre of a Black Hole.

Powers and abilities
Abilities
Infra-red night vision
Strength level
Superhuman
Weaknesses
Susceptible to bright light

Paraphernalia
Weapons
Detachable claw on left arm

Notes
The Warriors first appeared in Marvel UK's Doctor Who Weekly in the story The Star Beast.

Trivia
The Warriors are also said to have clashed with the family Slitheen.
Links
Discover and Discuss
Ad blocker interference detected!
Wikia is a free-to-use site that makes money from advertising. We have a modified experience for viewers using ad blockers

Wikia is not accessible if you've made further modifications. Remove the custom ad blocker rule(s) and the page will load as expected.