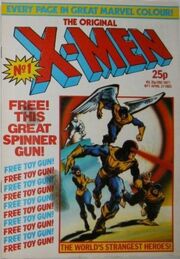 X-Men was a weekly title launched by
Marvel UK
on 27th April 1983, featuring reprints of the adventures of the original
X-Men
(initially by
Stan Lee
) from their first issue onwards; this was actually the third time these stories had been reprinted by Marvel UK since 1973. The title lasted just 17 issues before being merged with
Thor
, which had been launched around the same time and which was duly renamed
Thor and X-Men
for the remainder of its run. X-Men carried a banner at the top of the cover claiming that every page was in "great Marvel colour"; in practice, "Marvel colour" basically meant that for reasons of economy, some pages were in full colour but most were in a kind of two-tone which might just as well have been black and white. The first three issues carried cover mounted free gifts; a plastic "spinner gun" in issue #1 and X-Men stickers in #2 and #3.
More than a decade later, a second X-Men title was launched featuring a later incarnation of the team.
Ad blocker interference detected!
Wikia is a free-to-use site that makes money from advertising. We have a modified experience for viewers using ad blockers

Wikia is not accessible if you've made further modifications. Remove the custom ad blocker rule(s) and the page will load as expected.