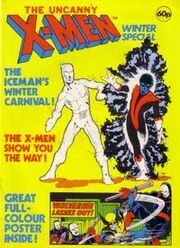 Two
Uncanny X-Men Winter Special'
s were published by
Marvel UK
, in 1981 and 1982. The first reprinted the story
What if Phoenix Had Not Died?
from the American Marvel title
What If...?
#27, while the second reprinted solo tales starring
Phoenix
,
Iceman
and
Nightcrawler
from the American title
Bizarre Adventures
#27. Both issues were in black & white.
Ad blocker interference detected!
Wikia is a free-to-use site that makes money from advertising. We have a modified experience for viewers using ad blockers

Wikia is not accessible if you've made further modifications. Remove the custom ad blocker rule(s) and the page will load as expected.