Zeitgeist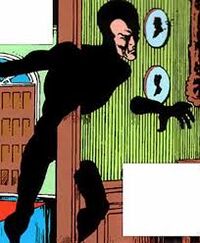 Characteristics
Status
Origin
First appearance
Last appearance
History
Zeitgeist was an alien mercenary, a member of the Parahuman group known as the Special Executive who had the ability to pass through solid matter and was invisible to technological scans. Acerbic and cynical, he frequently clashed with Wardog over what the Executive's priorities should be, an attitude in part validated when his colleagues Oxo and Legion were killed while assisting Captain Britain (Brian Braddock) against The Fury on Wardog's instructions.

Powers and abilities
Powers
Intangibility: Zeitgeist can become intangible at will.
Technological Imperceptibility: He is also undetectable by technology.

Abilities
Computer engineering.

Paraphernalia
Transportation
The Sidewinder, a trans-dimensional vehicle.

Notes
Since the Special Executive first appeared in a back-up story in Doctor Who Magazine working for the Time Lords, it has been theorised that they were from Gallifrey. However, there is no concrete evidence of this.
Links
Discover and Discuss
Ad blocker interference detected!
Wikia is a free-to-use site that makes money from advertising. We have a modified experience for viewers using ad blockers

Wikia is not accessible if you've made further modifications. Remove the custom ad blocker rule(s) and the page will load as expected.