Zenith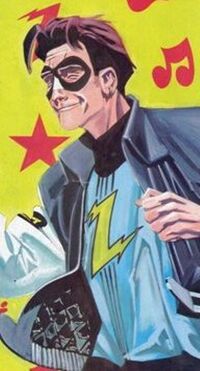 Real name
Robert Neal Cassady McDowell
Base of operations
Suffolk
Characteristics
Status
Origin
Origin
Progeny of two superheroes
First appearance
Last appearance
History
Zenith is the eponymous protagonist of a strip in 2000 AD. He was a third generation superhuman, the son of White Heat and Doctor Beat. They were two members of the 1960s super team Cloud 9 who had themselves rebelled against the conformist principles of their predecessor Maximan.
Vain, shallow and self-centred, Zenith initially used his powers to promote his career as a pop singer. He was then reluctantly dragged into the ongoing struggle to prevent the extra-dimensional entities known as the Lloigor ('The Many-Angled Ones') from invading Earth's dimension, alongside allies including Peter St John, Ruby Fox, Red Dragon and later several extra-dimensional superheroes such as Robot Archie and Thunderbolt Jaxon. He was also forced to battle and destroy the cyborg Warhead, which had actually once been his father, Doctor Beat.
Having effectively helped St John save the entire multiverse from the Lloigor and the insane surviving members of Cloud 9, Zenith eventually returned to his former hedonistic lifestyle. An interview with him published in prog 2050 in the year 2017 revealed that he had become a more mature, thoughtful individual as he had aged, and that he now lives in a farmhouse in Suffolk. It also mentioned that he was briefly married to Petronia Flett, a supermodel, in 2009.

Powers and abilities
Powers
Flight
Telekinesis
(telekinetic acceleration of molecular motion)
Enhanced Durability
Telepathy
Abilities
Convincing the public that he can sing.
Strength level
Superhuman.
Weaknesses
Incredibly vain.

Paraphernalia
Transportation
He can fly.

Notes
At one point, Zenith was believed to have sacrificed his life to save the multiverse, but it turned out to be his alternate universe duplicate Vertex who had died. Zenith remarked casually that "it sounds like the sort of bloody stupid thing he'd do."
Links
Discover and Discuss