Zip Morgan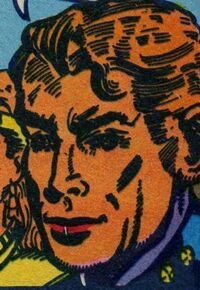 Characteristics
Status
Occupation
Space Patrol officer
Education
Military academy
First appearance
Young Marvelman Adventures Annual
History
Captain Zip Morgan was an officer of the Space Patrol, a military unit who patrolled Earth's Solar System in the future. Apparently based on Mars, Zip and his sidekick Buzzy, aided by allies such as Princess Kara, defended humanity from criminals like Sorl and Rorga, giant alien ants and other menaces in a number of unlikely adventures including tracking the lost treasure ship of Rana to Mercury.

Powers and abilities
Abilities
Pretty damned heroic.

Paraphernalia
Transportation
Rocket ship.

Notes
Appeared in publications of L.Miller & Son.

Trivia
The Zip Morgan story in the 1963 Young Marvelman Adventures Annual appears to be part two of a continued story, but does not specify where part one saw print.
Links
Discover and Discuss
Ad blocker interference detected!
Wikia is a free-to-use site that makes money from advertising. We have a modified experience for viewers using ad blockers

Wikia is not accessible if you've made further modifications. Remove the custom ad blocker rule(s) and the page will load as expected.