Zip Nolan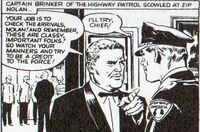 Base of operations
Formerly Pensburgh; later, mobile
Characteristics
Status
Occupation
Highway Patrolman
Origin
History
Zip Nolan was an American Highway Patrol officer who, for reasons never adequately explored, frequently nonetheless seemed to operate in Britain in the 1950's and 1960's. He was an accomplished detective, though seemingly underappreciated by his bosses.
According to one account (in the DC Comics limited series Albion) he later became an operative of the CIA and was sent back to Britain to investigate reports of a planned breakout at the isolated Scottish prison which had once been the home of Cursitor Doom.
Links
Discover and Discuss
Ad blocker interference detected!
Wikia is a free-to-use site that makes money from advertising. We have a modified experience for viewers using ad blockers

Wikia is not accessible if you've made further modifications. Remove the custom ad blocker rule(s) and the page will load as expected.