Zombo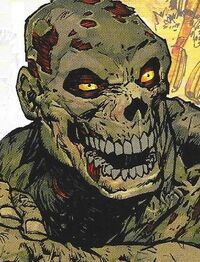 Characteristics
Unusual features
He's half zombie
Status
Origin
Origin
Created by government scientists
Place of birth
A laboratory
History
"A Government-run Earth, the far future (trust your Government). An experiment in mixing human and zombie DNA, Zombo was created in an attempt to control the sentient Deathworlds — obedient and friendly, his hunger for flesh is his only vice. In a bid to defeate the insane crime-fighter Obmoz, Zombo was seemingly destroyed. But someone has very important plans for him..."
Zombo is a 2000 AD comic strip by Al Ewing and Henry Flint. Its eponymous protagonist is 50% human, 50% zombie, 100% hero! His skin may be the sickly green of decaying flesh, and his eyes may burn with the ghastly radiance of unnatural vitality, but he has a heart of gold. Probably. The team who created him are like Marvel's Fantastic Four, but stupider ('Biff', for example, has been forced to "live the resta my life as *choke* a lousy monster!" after being given severe acne in the name of science). Zombo is a deft combination of action, humour, satire, parody and consistently inventive artwork, with each page rewarding close examination — Ewing and Flint seem to be trying to cram as many pop culture references into each panel as possible.

Powers and abilities
Strength level
Superhuman.
Weaknesses
Human flesh. Also, his brain can be hacked, enabling him to be controlled from afar for nefarious purposes.

Paraphernalia
Equipment
Electric pants.
Transportation
Spaceships and suchlike.

Notes
Zombo was published in 2000 AD progs 1632 to 1639 (first series), prog 2010 (Merry Christmas Mr Zombo), progs 1675 to 1684 (Zombo's Eleven), progs 1740 to 1749 (The Day the Zombo Died) and progs 1825 to 1834 (Planet Zombo).
The first two series and the Christmas episode are available as a trade paperback, sold here.
A Zombo collected edition entitled You Smell of Crime and I'm the Deodorant! was on the 'best comics of 2013' lists in Time and Wired.
There was a Zombo strip in the 2000 AD 40th Anniversary Special. It was a M.A.C.H One spoof which also featured Harry Angel.

Trivia
Zombo had a cameo in 2000 AD prog 2000 (published September 2016) which was drawn by Boo Cook.
Links
Discover and Discuss